Things to consider when looking for custom Vinyl Banners in Chicago
Chicago Signs & Screen Printing (CSSP) offers quality vinyl banners for indoor and outdoor use. With quick turnaround time and great customer service, you can't go wrong with CSSP!
You might be asking yourself, "What do I need to consider to get the best vinyl banners for my messaging needs?". Here are the top things you will want to know/consider when looking to design your own banner in Chicago.
How thick should the vinyl material be for my custom single and double sided vinyl banners?
Banners in Chicago, as well as nation-wide, are generally made of vinyl. The main difference between quality, is the thickness of the banners for printing. While there are some specialty vinyl banners, generally, banners used for marketing come in three different vinyl "Thicknesses" All three thickness of banners can be printed on a single sided or double sided banner, and they all will get your message out there. So, why different thicknesses for single and double sided banners? Mostly this has to do with usage type and life expectancy as well as budget.
13 oz Vinyl Banner- 13 oz banners are the thinnest that we would recommend anyone use. While they still can convey a message well, they are generally only used for in store and temporary use. At Chicago Signs and Screen printing, we do not use 13 oz very often for two reasons. 1) In the end, the displays will look like cheap banners and a bit flimsy, and 2) We price out our 15oz custom banners so closely that even most budget minded customers looking for short-term indoor banners want to use 15oz.
15 oz Vinyl Banner- When it comes to indoor banners for either short or long-term hanging, the 15oz banner work incredibly well. 15oz banners tend to look better than 13 oz. Their sheer thickness gives them a much more stable feel in case you decide to hang these just from the top. 15oz custom banners are also a good solution for outdoor display as long as the time frame for usage is on the shorter end. So, if you need an outdoor banner for an event that is only 30-90 days away, a 15oz banner can certainly answer that call. However, if you are looking for a vinyl banner to hang outdoors for months or even years, we would recommend that you consider using an 18oz thickness.
18oz Vinyl Banner- In the world of good, better, and best, the 18oz vinyl banners are generally considered the best. These custom banners can be used for both indoor as well as outdoor use and can be expected to last in either case for a rather long time. This is because its tear resistance material can withhold direct sunlight and withstand outdoor and windy conditions. Custom 18oz banners make up about 80% of the banners we provide. One reason for this is that the cost to upgrade to 18oz from 15oz is less than $1/SF. In the end, the look and feel alone is the top custom banner material.
One last note on custom banner thickness, no matter your budget, we never recommend using anything just to save money. They will be difficult to manage and they will not last long inside OR outside.

Get a quote today!
If not a vinyl banner, can I use a different material?
Of course! Although vinyl banners are the most common, we also offer fabric banners, mesh banners with a glossy or matte finish. It's important to note that we encourage reaching out to the CSSP team to discuss the best material for your indoor and outdoor banners.
What is the best way to hang custom banners in Chicago? (or anywhere really)
There are many types of vinyl banner material that you can use to promote your message. Some of these types include tear resistant retractable banners, wall or brick framed banners, and step and repeat banners.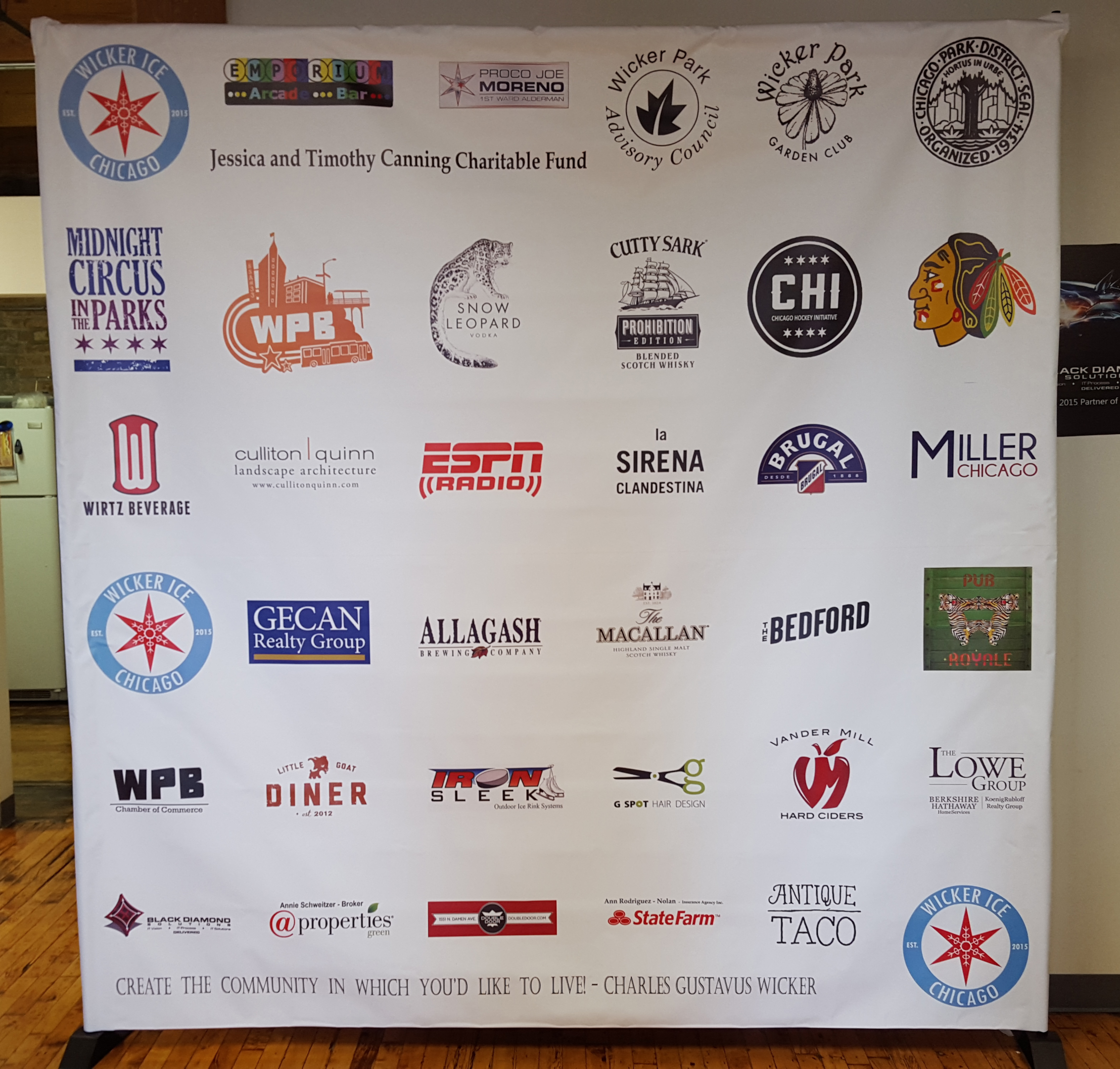 These types of banners usually require some sort of hardware to install them. While we do offer all of these types of vinyl banners (and many others) this article is specifically discussing more basic hanging vinyl banners.
When it comes to vinyl banners there are a few options to hanging.
Double Sided Tape- There are a handful of brands of double-sided tape, and they all suit the purpose well to some extent. However, we recommend this application only in cases where the display is for short term and there is no way to use grommets and zip ties. Double sided tape works reasonably well indoors on smooth, hard surfaces, but the problem across longer term is that it loses its stick due to longevity and then the banners will fall.
Suction Cups- Similar to double sided tape, suction cups are also a good way to hang vinyl banners on a glass surface. Suction cups have some of the same issues with long term stick as double sided tape, however the advantage with suction cups is that if the suction does come ineffective and slip off, the suction cups can be re-attached where double sided tape would need to be replaced.
Accessories Grommets and Zip Ties- By far the most popular and effective ways to hang a vinyl banner is to have grommets (metal holes) made on the outer border of the vinyl banner, and then feed zip ties through the grommet and into a fence or other object that you are attaching the banner. When buying a custom printed banner, your printer should always offer you grommets. At Chicago Signs & Screen Printing, we always include grommets in your Chicago vinyl banners for FREE. In fact you can choose to have them in only the corners or every 2 feet around the entire banner if you want. ALL FREE!
Custom Banner Frame- If you are planning on installing a banner on the side of a building, using a custom sized frame is a great option. It both protects the banner in addition to looking aesthetic mounted on the side of the building. They do have some cost involved, but especially if you plan on using multiple banners on the building over time, (switching them out) then a custom banner frame will be a great option since you can inter-change new banners on the same frame.
Stake and Pole Vinyl Banner Stands- A new option if you are looking to have an outdoor banner that you would like to have installed into a soft ground (like for a golf outing) a Stake and banner stands can be a great option.

Can I expect to get a Same Day Banner?
Next day vinyl banner printing? Same Day Service?
This is a tough question to answer when you consider the number of different printers offering custom vinyl banners. Most printed vinyl banners are complete in one week or less. However, make sure you ask because if a print shop happens to be on the smaller side and busy, it could be as much as 3 weeks for production.
At CSSP, our standard turnaround time is 2-3 days after order is accepted and art is confirmed. Meaning, if you have print ready art, all we need is the sizes of your vinyl banner(s), if you need grommets, wind slits, or pole pockets.
We do offer next day, or even same day banners, rush fees may apply.
Contact us to get a quote and free consultation from our friendly staff!
To review, Chicago Signs & Screen Printing offers the following:
Custom banners in 2-3 business days.
Next business day banners in Chicago available with potential rush fee
Same day banners in Chicago available with potential rush fee
Note: All you have to do to avoid any fees is plan ahead by 3 business days. This will allow you to avoid any rush fees for next business day banners or same business day banners.

Why buy vinyl banners from Chicago Signs & Screen Printing?
Here are the top 10 reasons to purchase your custom vinyl banners from Chicago Signs & Screen Printing
1) We make it easy! Whether you have art or need help, we have the team to help you from start to finish. Want to pick up your outdoor and indoor banners at our shop? No problem. Want to have it shipped anywhere in the US? We can do that as well for as little as $12 a location. This is perfect when needing to send banners to multiple locations.
2) Highly reviewed on Google and elsewhere– Our company has OVER 100 5-star Google and internet reviews.  Many of those reviews are for organizations that purchased multiple banners from us. We have also been named a top company in Chicago by Expertise.com
3) Turnaround time- Once you place your order, your banner will be ready for pick up or shipping within 2-3 business days. Even faster service is usually available for a rush fee.
4) Quality- We only use the best materials and ink for our production. No matter if you want 13oz banners or 18oz banners, we ensure quality and customer satisfaction.
5) Pricing- While FedEx printing and other print shops charge anywhere from $6-$10 a square foot for printing high quality banners (sometimes not so quality) Chicago Signs & Screen Printing uses it's sheer volume of banner production to get the best prices from our suppliers. We then pass those savings on to you!
6) Service- Need help with your art? You got it. Want to get items shipped to your location or any location in the US? No problem. Want to speak with a live human being? Our phone number is 312-273-1833.
7) Commitment to your deadline- Once an order is accepted with a deadline date for delivery. We will hit that deadline. NO EXCEPTIONS!
8) School and Park District Specialists- We print hundreds of banners for schools and park districts in Chicago. If you are looking for banners for a CPS school, we are an approved CPS vendor (Vendor #40344)
9) FREE Grommets- Some places offer a low price but then charge you extra for grommets. Our price is all inclusive of grommets if your banner needs them. In fact, you can have your grommets put in any way you want. Corners only? Great. All Around? No problem.
10) Our portfolio of AWESOME banners- Sure we have a lot of client reviews. However, we also have one the largest portfolios of banners printed in Chicago. We are not only the largest supplier of such banners, but also with the highest quality and customer satisfaction.
Want to start your own vinyl banners in Chicago and have them delivered anywhere in the US?
Contact us to speak to a customer service representative about your own vinyl banner!
Until then, if you have your own artwork, you can upload your image when submitting a quote request form. If you don't have your own graphics, our professional designers can help you to create the perfect artwork!